Jean Audrey McGregor
2/4/2020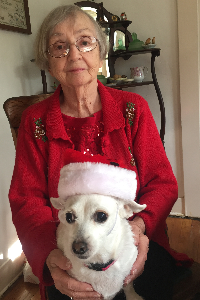 Jean McGregor passed away peacefully at home in Ventura on February 4, 2020. She was born Jean Audrey Windhauser on March 10, 1934, to Cecelia (Weiner) and Carlton Louis Windhauser.
Jean moved around the US as a child, and graduated from high school in Louisiana. She attended Auburn University and received her master's degree in speech pathology and audiology. She worked as a speech therapist in the San Fernando Valley during the 1960s and 70s, and later moved to Thousand Oaks and worked for WaldenBooks.
Jean had two children, Julia and Christopher, from her first marriage to John Elzie Parnell Jr. Jean and John divorced in 1969.
In 1984, Jean married Robert McGregor, and they lived in Thousand Oaks for many years (with a brief residence in Oshkosh, Wisconsin), before moving to Santa Paula. Robert McGregor passed away January 28, 2019.
Jean was an active volunteer in Santa Paula, working as an ombudsman for senior care facilities in Ventura County, at the Santa Paula library, and as a tutor for ESL students. She also joined the Universalist Unitarian Church of Santa Paula, where she met many wonderful friends, including Steve Lattimore and Reverend Carolyn Price.
Jean is survived by her son Christopher and daughter Julia (Craig), grandchildren Cameron and Jade, step-granddaughters Brie (Jamie, and their daughter Avery) and Erin (Eric), cousin Faye Drayna, her half-brother Robert Windhauser (Nancy) and nephews Scott Windhauser and Bradley Windhauser (Jared), and three stepsons and their families: Mark McGregor, of Springfield, MO, and his daughters Megan (Damon) and Caitlin (and her son Roark Johnson); Gary and Lisa McGregor of Carnation, WA, and their son Cory and daughter Stephanie (Robert); and James and Mary McGregor, of Moorpark, CA, and their son Josh and daughter Amanda.
Jean also leaves behind a group of dear friends throughout Southern California. Her much-loved dogs Pearl and Daisy are with friends Ariel Alexander and Trina Nagele.
A memorial service will be held on Sunday, March 15 th at 2 pm at the Universalist Unitarian Church of Santa Paula at 740 E. Main Street in Santa Paula, CA. In lieu of flowers donations can be made to the Santa Paula Animal Rescue Center.
Arrangements are under the direction of the JOSEPH P. REARDON FUNERAL HOME & CREMATION SERVICE, Ventura.