Irmgard Irene Chow
2/1/2020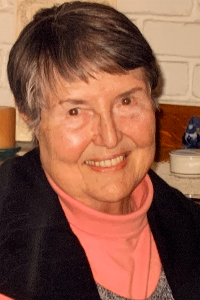 Irmgard Irene Chow (nee Klee), 89, of Ventura, CA, passed away on February 1, 2020, in her home with family
at her side. The youngest of three children, she was born April 30, 1930, in Bad Salzungen, Germany to
Wilhelm & Katharina (Braun) Klee.
Irmgard grew up in the small village of Philippsthal am Werra in central Germany. As a child she developed a
lifelong love of books, learning and languages, eventually becoming fluent in English, French, and Spanish, as
well as familiar with Russian. Along with her brother, she was on track to attend University at Gottingen
Germany. World War II however made that impossible. After the war she assisted with English translations for
the Red Cross workers who were attempting to track down families of fallen German soldiers. Subsequently she
also worked for a short time in England and France. From these contacts, she was motivated to consider
exploring the world outside of the village, specifically, to move to the United States. In1953, sponsored by
cousins who had already immigrated, she joined them in Cleveland Ohio and began working as a long distance
telephone operator. She further followed her dream and the sunshine to Southern California.
It was here that she met and married the love of her life, fellow immigrant (from China), Howard T. Chow. They
defied convention and the anti-miscegenation laws of the time and married. Theirs was truly a meeting of East
and West. They raised their children in Pasadena, California, where she was a dedicated homemaker and
consistent scholar. Widowed in 1977 she obtained her AA degree in Medical Assisting and certificate in Medical
Transcription. Following enrollment in a Spanish language immersion program in Mexico, she became fluent in
Spanish. She worked for years at St. Joseph Medical Center in Burbank, where she was often summoned to the
Obstetrics department to translate. After retirement she moved to Ventura in 1999.
Her interests were many and greatest among them were world history, the study of religious philosophy, poetry,
humanities, languages and music appreciation. Several of her poems were published in the Pasadena City
College "Inscape" poetry publication. As an accomplished seamstress and knitter, her hands were always busy
and her family the beneficiary of many lovingly handcrafted items. She had a special place in her heart for a
game of Scrabble, crossword puzzles, Jeopardy (don't call at 7pm!) and most especially, ice cream.
Although raised without any religious upbringing, Irmgard converted to Judaism when she was 50, embracing its
intellectual philosophy, history and Hebrew language.
Irmgard was preceded in death by her husband Howard Chow and grandson David Goetz, her parents and
brothers Hans and Karl. She is survived by daughters Eva Goetz (Russell), Iris Chow (Kent Hollenback), son
Kenneth Chow (Laurie); grandchildren Kelsey, Justin (Leah Wachtel), Trevor (Lindsay) and Connor Hollenback;
Brian and Evan Chow; three great-grandsons Howie, Rex and Arlo; niece Angela Nichols, numerous distant
relatives in Germany, and her devoted lifelong friend Hannah Linson.
Heartfelt thanks to her many caregivers, Assisted Hospice, Cheryl Lambing M.D. and the staff at VCMC.
A private family Celebration of Life will be held at a later date.
In lieu of flowers, donations can be made to a favorite charity.