Sheila Mary Voigt
1/30/2020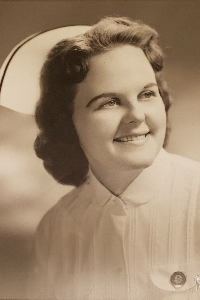 Sheila Mary Voigt

During the late morning of January 30, 2020, Sheila Mary Voigt passed away. She was eighty-five years old, and a resident of Ventura for seventy-six years.
She was born to her wonderful and loving parents, Daniel Joseph and Luceila Frances McNeil, in Sioux City, Iowa in 1934. She attended Holy Cross School and St. Catherine's Academy before attending Knapp College of Nursing to receive her Registered Nursing Degree. Sheila served as a nurse at St. John's Hospital for several years before joining a few doctors at the then-fledgling Buenaventura Medical Clinic in Ventura, as the first pediatric nurse, where she remained for the rest of her career of 42 years. Her position upon retirement was Supervisor of
Pediatric Nursing.
In 1962, she married the love of her life, Harland G. Voigt, Jr., and together they raised five daughters and cared for her own mother as well. After she retired from the clinic, Sheila delighted in spending time with her grandchildren and hosting holidays and events for her family and friends. She was surrounded by family during her last days and at her passing. Sheila was well-known and loved throughout the community, and was known far and wide as "Nurse Sheila." She became an iconic figure to all those who knew her from the Buenaventura Medical Clinic, ever-present in the Pediatrics Department, and always in her traditional white nurse's uniform, complete with her cap and navy blue cape. "This is what a nurse looks like," people often would tell their children. She never knew a stranger, had a smile for all those she met and welcomed everyone with her kind and caring ways. Generations of families were touched by Sheila's loving care over the course of her career. She was affectionately called "The Cornerstone of The Clinic." But Sheila was its heart as well.
Sheila was a strong, independent and self-reliant Navy wife. She worked full-time, raised five daughters and handled every obstacle while her husband, Harley, was on Navy and Merchant Marine deployments. Sheila always found time to serve as a parent volunteer at Holy Cross,
served as the school nurse, performed vision, hearing and scoliosis screenings, helped to serve hot lunch, and never missed an award ceremony or a performance. At one point in the seventies, when the fate of Holy Cross was in question, she started an organization to fundraise and keep the school open, and it remains open today, thanks to her efforts. An only child, she was never happier than when she was with "The Big Five," her five daughters. They were her greatest joy. In every way, Sheila was the most perfect role model five daughters could ever have.
To her grandchildren, she was lovingly known as "Nana." She and Papa enjoyed picking up the grandkids from school and often retold the adventures they shared, and she loved time spent with them at their home. She enjoyed every moment of being in the bosom of her family. Her daughters and grandkids loved and adored her, and never for a moment doubted her unconditional love and endless devotion. It shone brightly in her every word and deed.
Sheila was preceded in death in May by her husband of 56 years, Harland George Voigt, Jr., and by her parents, Daniel Joseph MacNeil and Luceila Frances McNeil. Sheila is survived by her five daughters, Heidi Haines, Krista Dugas, Gretchen Braver, Heather Thayer and Anna
Haas; and her grandchildren, Madeleine, Samuel, Karli, Kelsi, Kayli, Grace, Ian, Daniel, Ella, William and Logan. Words cannot express how deeply she will always be loved and missed by her family.
Family and friends are invited to a Memorial Mass of Christian Burial to be celebrated at 11am Monday February 10, 2020 in the San Buenaventura Roman Catholic Mission, 211 Main Street Ventura. Interment will then immediately follow in Ivy Lawn Memorial Park, Ventura. Arrangements are under the direction of the JOSEPH P. REARDON FUNERAL HOME & CREMATION SERVICE, Ventura.