Ronald Allan Laux
1/27/2020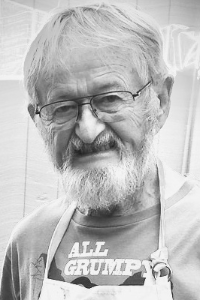 Ronald Allan Laux, 85, of Ventura, CA passed away on January 27 th , 2020, peacefully in his home surrounded by his loving family. Ron was born on June 17, 1934 in San Luis Obispo, CA. After high school, he joined the US Navy and served between the Korean and Vietnam Wars. He received his
college degree from San Jose State, and then taught elementary school in the Philippines as a member of the US Peace Corps. He married his love Victoria Raleeh in 1970. He went on to earn his Masters in Social Work at Fresno State and was employed at the VA Hospital in Palo Alto.
In 1986, Ron moved to Goleta with his family to work for Community Care Licensing in Santa Barbara, and enjoyed playing guitar, dancing with his wife, camping and sailing with his family on his boat the Rhum Bhy Ghum.
He retired to Mountain Ranch where Ron enjoyed making wine from grapes grown in his own vineyard until moving to Ventura. During his final years he cultivated his backyard garden, attended the Men's Prayer Group at his church, continued to act as the household handyman, and played with his six grandchildren. Now Ron is with Jesus, playing guitar and sailing on the most beautiful lakes in Heaven! Ron is survived by his 96-year old sister Audrey, his wife Victoria, his son Aaron and daughter-in-law Stacie, his daughter Elisa and son-in-law Warren, and his grandchildren Kaily, Noel, Gabriel, Emmanuel, Jack, and Ryan.
Ron's Celebration of Life will be held at Trinity Lutheran Church, 196 North Ashwood Ave, Ventura CA 93003 at 4:00PM on Friday, February 7 th , 2020 with a dinner reception following in the church hall. In lieu of flowers, please donate to the Peace Corps in Ron's name. Arrangements are under the direction of the JOSEPH P. REARDON FUNERAL HOME & CREMATION SERVICE, Ventura.