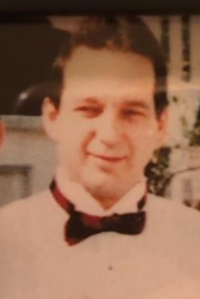 STAPLETON, Gerald T., Jr. age 62 of Roslindale passed away suddenly on January 25, 2020. Beloved son of Gerald T. Stapleton, Sr. and the late Elaine (Zeno) of Boston. Loving brother of Karen Stapleton Gilmore of Roslindale, Paul Stapleton of West Roxbury, John and Petra Stapleton of New Hampshire, Steven Stapleton of Roslindale, Michael and Lisa Stapleton of Brighton and the late Jeanine Marie Stapleton of Boston. Loving nephew of Joan Zeno of West Roxbury. Also survived by several nieces and nephews: Lauren, Leigh, Melissa, Alanna, Paul, Roisin, Meeghan, Thomas, Michael, Joseph and Abby as well as several grand nieces and nephews.

Visiting hours Wednesday, January 29th from 3pm -7pm at the Gormley Funeral Home, 2055 Centre St. West Roxbury, MA. Funeral from the Gormley Funeral Home Thursday, January 30th at 9am followed by a Mass of Christian Burial in Saint John Chrysostom Church, West Roxbury at 10 o'clock. Relatives and friends are kindly invited to attend.

Jerry was a gentle soul, avid reader, enjoyed golfing and spending time with family and friends. He will be missed by all.