Mildred Sylvia (Doe) Burger
1/12/2020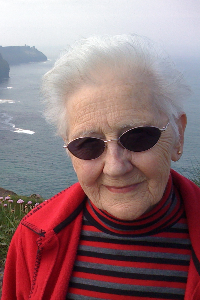 Mildred (Doe) Burger, March 11, 1928 – January 12, 2020

Mildred Burger was born Mildred Sylvia Doe, on March 11, 1928 in East Randolph, Vermont. She was the daughter of Homer Doe (from Granby, Quebec) and Nora (Duddy) Doe, who immigrated from County Galway, Ireland in 1903. Mildred (91) departed this world on January 12, 2020, to walk with the angels.

Millie was born at home in Vermont, in a farmhouse without running water or electricity. It was a life of hard work and tough winters. She attended a one-room schoolhouse in Randolph Center, VT and lived through The Great Depression, passing on her frugality to those who followed (son, Carl, born in 1948, and daughter, Karen, born in 1949). In addition, she raised a grandson, Sidney, and a great grandson, Christian. Mildred also had a great granddaughter, Sylvia, named in her honor. Her love for family was unending. Grandson Sidney gave his life to living with and caring for Mildred in her Arlington, MA home through her last several years, so she could live-out her full life at home.

Mildred loved Vermont, the family farm, and all of its animals, especially her cats, kittens, chickens and "caows" (with a favorite of each). Millie told us many times how big brother, Eric, used to leave a stick of Juicy Fruit Gum on a nearby fence post for her, on his way to work. Those little things meant so much to Mildred who spoke of them many times. The Doe family did not have much, and the children never got more than one small gift at Christmas. But father Homer, and Mother Nora gave her, her brother Eric, and her sisters, Olive and Evelyn (all of whom predeceased Mildred), a warm and loving upbringing.

The family eventually moved to Cambridge, MA. Mildred spent much of her adult life as a Switchboard Operator/Receptionist for a water purification company (Ionics) in Watertown, MA. She married Frank Vincent Burger (a WWII veteran and master machinist) in 1947, and lived in the house in Medford, MA owned by his father, Frank Victor, and mother, Anna Burger until 1972, when Mildred carved a new life path for her and grandson, Sidney. Other highlights of Mildred's adult life included travel to Europe, with two trips to Ireland where she got to walk the small farm where her mother, Nora, was born in 1882.

We have wonderful memories of the woman who gave us unconditional love. Millie went out of her way to help Carl, Karen, Sidney, Christian and Sylvia with whatever challenges they faced in life. She was a generous, caring woman who always put the needs of others ahead of her own. Mom also loved niece Ruth Syring, and often referred to her as a second daughter. Her love for pets was life-long, especially her beloved Bichon, "Cricket," who preceded Millie's death by a few months (a true hardship for her and grandson Sidney).

Millie always thought that flowers are for the living. If friends and relatives wish to do anything in mom's name, she would always have appreciated a donation to Grace Episcopal Church in Medford, MA, or to a charity of one's choice (e.g. Humane Society).

A service in mom's honor will be celebrated at a time to be announced. May she rest in peace. For additional information, please visit, www.magliozzifuneralhome.com.