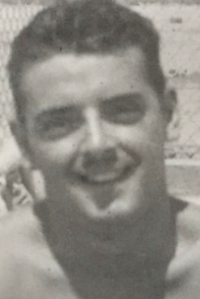 Joseph Patrick Geary II "The Bopper"
Passed away at the home of his son Robert Emmet, in Hull, MA on December 23, 2019 after a long and fulfilling life. His sons Robert and Joseph, his daughter Barbara Jo, Sister-in-Law Terri Lynn (Reed), Grandson Robert E., Granddaughter Lauren Elizabeth and husband Mack Murphy, Grandson Christopher Joseph, and his four-legged pals Penny, Keanu, and Stunner were at his side throughout his journey home.

Joe was born on January 25, 1931 in Boston, Massachusetts to Joseph Patrick and Mary Josephine Walsh. His childhood was spent at 82 Gates St, South Boston and the pride of South Boston never left his heart. After Graduating from South Boston High in 1947 he joined the Air Force and was a decorated member of the 6510th Air Police Squadron. His duty stations included Texas, California, and Greenland, during the Korean conflict. He was selected to be honor guard for General Hap Arnold the only 5-Star General of the United States Air Force and Army. After completion of his military service, he became a Sheet Metal Craftsman and longtime member of Local 17. He was united in marriage to Barbara M Lynch on January 3, 1956, in Boston, Ma. Throughout the years, Joe had many interests, he was a proud member of the American Legion, a 4th degree Knight of the Knights of Columbus, an amateur boxer, award winning bowler, avid reader, gardener, painter, and follower of U.S. politics. He had an equal interest in the Boston Red Sox, and New England Patriots; watching the games in-between soap-operas in his chair with "Bunny" (Barbara M).

He valued family time in Hull, Ma, Galveston, Tx, and St. Johnsbury, VT. An active participant on the sidelines at countless athletic events for his sons and grandchildren, and any event where needed at his daughters' band and related activities, and high-school father-daughter soirees.

The annual Boston Family Turkey Trot, Hull Christmas by the sea and travels to see his beloved brother in law Joseph Goodman Lynch and wife Carol A. Havemann Lynch were all special to Joe.

Joe is survived by his relatives, children, grandchildren, and friends who will miss him profoundly; his beloved Sister-in-Law Carol A. Havemann Lynch, his daughter Barbara Jo, his son Joseph Patrick III, his son Robert Emmet, his Granddaughter Chanel Eori, his Grandson Robert Emmett, his Granddaughter Lauren Murphy (Geary) and husband Mack Murphy, his Grandson Christopher Joseph, cousin Barbara Walsh Byron and friends Ruby C. , Carol Jones, Victor Fercozo MD, Pam F, Colby C, Anne B, Mary E Civetti.

Those who knew him will miss his steadfast and heartful integrity, his trusted confidence that was beyond reproach, quick-wit matched by none, his ability to forgive, his pride in his heritage and family, and above all a smile that welcomed all.

Visiting Hours at the William J. Gormley Funeral Home, 2055 Centre St. West Roxbury, Saturday, December 28th from 11am-1pm followed by a service in the funeral home at 1pm. Interment St. Joseph Cemetery. Relatives and friends invited. For directions and guestbook www.gormleyfuneral.com.