Howard Pershing "Red" Garrett
10/7/2019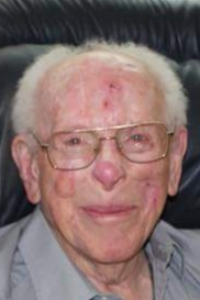 Howard P. "Red" Garrett, 101, was born and raised in Loganville, Walton County, Georgia. He was a child of the great depression and a proud WWII U. S. Army veteran, having served in the South Pacific theater.

Services will be held at Platt's Crawford Avenue Chapel in Augusta, GA on Friday, October 11, 2019 at 11:00 AM, with visitation an hour before the service. Interment will be at Hillcrest Memorial Park, Augusta, GA.

After graduation from high school, he attended the Southern School of Printing in Nashville, TN. He began his career in the printing and newspaper business world in Columbus, GA. There he met Nancy Lou Collier, who became the love of his life and wife of 64 years before her passing in August 2004.
After WWII began, he worked for defense contractor DuPont in the gunpowder plant in Childersburg, AL until he was called to serve in early 1943. His training took place at Camp Seibert, near Gadsden, AL, and after completion, he was sent to the South Pacific.
After his discharge in early 1946, he returned to Columbus, GA, where he worked for the Columbus Ledger-Enquirer as a Linotype machinist until 1962. He and Nancy moved to Tuscaloosa, AL, where he was the head machinist for the Tuscaloosa News newspaper. In 1964, he was offered the position of head machinist for The Augusta Chronicle-Herald (GA), where he worked until his retirement in 1985.
He enjoyed life fully and travelled extensively with his beloved Nancy. His other avocation was fishing, and he and son Bobby fished often on many Southern lakes. He was an ordained Baptist deacon and a devoted member and servant at Curtis Baptist Church in Augusta, where he worked with youth Sunday School for many years. "Mr. Red" loved his Lord Jesus and is a great addition to the Heavenly throng.

He is preceded in death by his parents, James B. Garrett, Sr and Ola Mayfield Garrett, and his loving wife, Nancy Lou Collier Garrett. He is survived by his son, Bobby J. Garrett (Janie) of Cumming, GA; granddaughters Jana Garrett Davis of Lebanon, TN, and Jodi Garrett Wallace (Preston) of Helena, AL; great grandchildren Kaitlin Davis Coles (Landon) of Lebanon, TN and Hannah Davis of Mt. Juliet, TN, Lauren Caver and Brody Caver of Helena, AL; great-great granddaughters, Emersyn Gooden and Eleanor Judkin, both of Mt. Juliet, TN.; and nephews, Dr Don Collier of Decatur, AL, Dr Ken Collier of Brevard, N.C., and Ben Garrett of Monroe, GA.; Nieces, Jane Garrett Meeks (Larry) and Janette Garrett, both of Dalton, GA. Also, a number of grand and great nephews and nieces.

In lieu of flowers, please make donations in memory of Red & Nancy Garrett to Curtis Baptist Church, Augusta, Ga or The Wilds of North Carolina, Brevard, N.C.