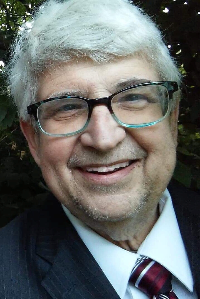 David S. Elias, age 64, of Foxborough, MA, formerly of Roslindale, passed away on July 24, 2019 with his wife Clare, daughter Kimberley, and son Patrick, beside him. David grew up in Westport, Massachusetts. As well as his wife and children, David is survived by his mother Olly, brother John, and other family members.

David's family and friends will remember David for his wit, knowledge, love of planes, space, and cars, and his custom of sending unique Facebook posts. David would likely want to be remembered for others traits as well: his enthusiastic collecting of flashlights, fine plastic-ware, and pens; being a truly excellent speller; and his taste for a great meal.

His family and friends will have a little less laughter in their lives. He will be greatly missed.

On August 3rd, his family will be hosting a 'Celebration of his Life,' at the South Foxboro Community Club. It is located at 382 South Street, Foxborough MA (at the corner of North Grove and South Street) and held from 12 to 4pm. Friends and family are welcome to attend. As David would have wanted, dress is casual and no beets will be served.