Mary A. (Satas) Martel
6/15/2016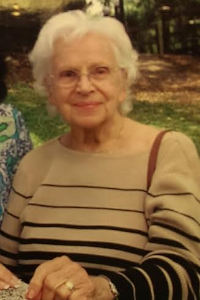 Hudson, MA

Mary A. (Satas) Martel, 89, of Hudson, died on Wednesday, June 15th surrounded by her loving family at the Marlborough Hills Rehabilitation and Healthcare Center in Marlboro, MA.

Mary was a lifelong resident of Hudson, MA, the daughter of Michelina (Jeremich) and Bartholomeu Satas. She is survived by her Husband of 67 Years, Paul L. Martel of Hudson, MA, former owner of Martel's News Enterprise Press; her daughter, Ellen Martel of Spring, TX; four grandchildren – Christopher Bruce, Alexandria Magill, Matthew Martel, and Emily Martel; 4 Great-Grandchildren – John, Wesley, Nicholas and Maximillian Magill. Sisters-In-Law Betty Satas and Nathalie (Martel) Ahearn. She is predeceased by her son, Peter L. Martel, sister Edna (Satas) Riley, brothers Joseph and Wallace Satas.

Mary was a Parishioner of Christ The King Church and St. Michaels Parishes. She attended St. Michael's Academy and Graduated from Hudson High in 1944. After attending Vesper George School of Art in Boston, Mary pursued a career at Priscilla's Of Boston and was a sewing instructor at Singers' in Marlboro, MA. She was a member of the Hudson Historical Society, Hudson Women's Club, and the Ace of Clubs. She and husband Paul were active in the Hickory Hills Square Dancing Club, and traveled extensively in the USA and Europe. Mary enjoyed painting in multiple mediums, and was an award winning artist.

A funeral mass will be celebrated on Monday, June 20th at 9:00 a.m. in Saint Michael's Church, 21 Manning Street, Hudson. Burial services will be held privately at a later date in Saint Michael's Cemetery, Hudson. Family and friends may attend calling hours on Sunday, June 19th from 3:00 to 6:00 p.m. at the Tighe-Hamilton Funeral Home, Inc. 50 Central Street, Hudson, MA 01749 (www.tighehamilton.com).

In lieu of flowers, donations in memory of Mary may be sent to: National Multiple Sclerosis Society, (www.nationalmssociety.org) or 101 A 1st Avenue, Waltham, MA 02451.